-Dr. Avo Fronjian and his staff welcome you to our warm and comfortable dental office, located in San Diego Ca. Where we provide a unique, personalized attention to every one of our patients. We only schedule one patient at a time and devote all of our attention and time to that one patient during the appointment. We never double book our patients. And the only Dentist you will ever see at our office is Dr. Fronjian.

-Our office is a small family practice, where we strive to provide the highest quality of care in a personalized setting. Our office has used this approach to patient care since 1980 when it was first opened.

-Dr. Fronjian took over the practice in 2004 and has continued the tradition of providing quality personalized care for each of our patients. We think of our patients as family, many of them have been with the practice for over 20 years. We have seen kids grow up, go away for college, get married and bring their sons and daughters in for their first dental visit. Come and join our family of patients today.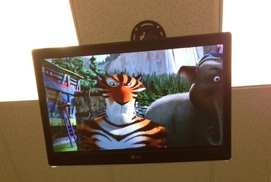 AFFORDABLE DENTISTRY
We have several promotional and cost saving options to make your dental treatment affordable, especially if you don't have dental insurance. Please call us for details.

WILL IT HURT?
-Dr. Fronjian has developed methods over the years in practice to significantly minimize discomfort during dental visits. For example we always use numbing gel for all our routine cleanings. There is no extra cost for this service and the numb feeling goes away in 10-15 minutes.

-Did you know the main reason injections hurt is because of how fast it is done. Dr. Fronjian always takes his time with injections, injecting slowly dramatically reduces the pain experienced during an injection. And injecting slowly also increases the level of numbness and improves safety. Since we only see one patient at a time, we make sure to take the time to ensure our patients are as comfortable as possible. We also offer Nitrous Oxide sedation when necessary.

ENTERTAINMENT
Each of our dental treatment rooms are equipped with television monitors on the ceilings and headphones so that you can watch your favorite program while you get your teeth worked on. This is an excellent way to reduce anxiety and keeps patients preoccupied. Kids specially love it too.

DIGITAL X-RAYS
With our patient's safety in mind, we utilize digital x-rays. This allows us to visualize problems and cavities that conventional films never could. Digital x-rays also reduces the amount of radiation exposure to a fraction of what patients used to receive with conventional film. Digital technology has significantly improved diagnosis and allows us to share and explain many dental issues with our patients.
---